TAX RETURN APPOINTMENT
Simply phone or email to book a face-to-face appointment with one of our fully qualified accountants. During your meeting, we complete a comprehensive list of questions, ensuring you do not miss out on any allowable deductions and tax offsets. We investigate over 175 possible tax deductions, tax credits, tax exemptions and tax offsets to maximise your tax refund as much as legislation will allow.
TAX RETURN VIA DIGITAL MEETINGS

Save time with the convenience of our digital tax return services. Simply view our Tax Return Checklist, and email [email protected] with your details. One of our fully qualified accountants will review your information and contact you to maximise your tax refund. We then prepare your tax return which can be e-signed via your computer or smart phone. We can also deduct our fee from your refund so no upfront fee is required.
We search over 175 possible deductions, credits and exemptions to get your tax return done right
Call 1300 166 777
WHAT MAKES OUR ACCOUNTANTS  SPECIAL
100
Satisfaction Guarantee
INDIVIDUAL TAX – FROM $99*
Simple Tax Special Rate – $99 (1 PAYG & Deductions<$300)*
Standard Personal Tax Return: $159
Extras:
Deductions >$1000 or over 10 items – $25
Rental property (per property) – $139
Capital Gain Tax – from $219
Medicare Levy Refund – $69
Fee from refund service – $25
BUSINESS TAX – FROM $199+GST 
Sub-Contractors (PSI,1 Client Only) – from $199+GST
Sole Traders – from $343+GST
Partnerships – from $343+GST
Business Activity Statement – from $220+GST
Standard Hourly Rate – $199+GST
Fringe Benefit Tax, Trusts, Companies and SMSF – POA
Trusts, Companies and SMSF – POA

From only $99 for individual tax, our service includes a comprehensive interview and year round support. Rather than filling out forms for you quickly as many agents do, we look into every detail carefully to maximise your legitimate refund. We prepare your tax return thoroughly and carefully, this is how we NEVER miss a deduction.
For complex tax returns, after a review of your documents, we will provide you with a clear quote upfront with NO hidden fees.
Our belief: a good tax agent is much more important than a good price!
*The special rate $99 only applies when you only need to declare 1 PAYG Payment Summary with less than $300 deductions applied on the tax return. This discount replaces the previous student discount rate programme. 
WHY CHOOSE US?
EVERY DETAIL REVIEWED
We are NOT 10-minute quick-tax agents! We take the time and effort to explore every possible tax deduction/benefit possible. WE SEARCH OVER 175 TAX DEDUCTIONS, REBATES AND OFFSETS TO GET YOUR TAXES DONE RIGHT!
BEST ACCOUNTANTS
We only recruit experienced, fully qualified tax experts. At Tax7 we value your trust and rely on repeat business. Our promise to you is that you will be dealing with competent, qualified accountants, with a passion for all things tax related.
COMPETITIVE PRICE
Our services are competitively priced, offering year-round, high quality taxation and accounting support for individuals and businesses. You will receive a comprehensive upfront and transparent quote with no hidden charges. We offer a 100% satisfaction guarantee… if you are not satisfied with our services, you are not obligated to pay.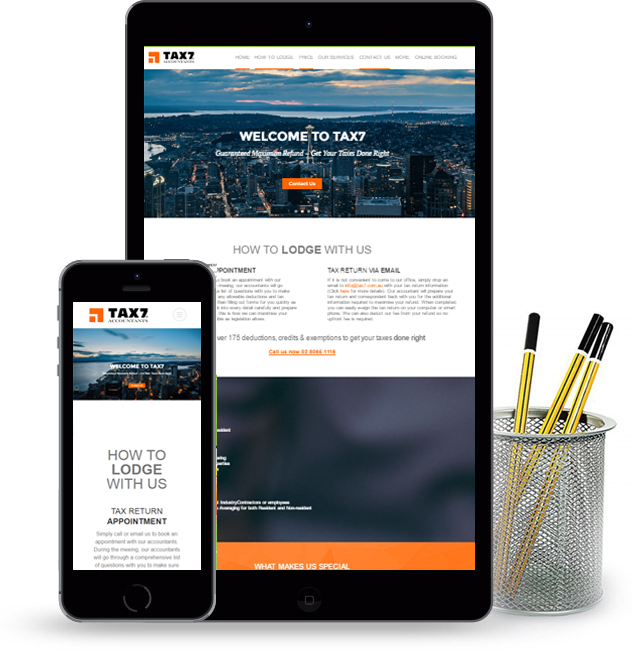 Great service, friendly staff. Nikolay was always available to answer questions and provide efficient solutions, he is also super helpful and explains things in a way that is easy to understand. Great service! I would highly recommend these guys 🙂
Etorne Samanes
05:50 10 Apr 18
I would highly recommend Nikolay - not only did explain the process in layman's term, his communication was excellent. Definitely the best tax agent I've dealt with - also Tax7's fees are very reasonable.
Sione Akau
21:29 10 Apr 18
We engaged Tax7 accountants this year. The team at Tax7 were friendly, helpful, professional, knowledgeable, efficient, straight forward and they saved us money! They understand the value of impeccable and timely customer service. They provide clear quotes upfront (no hidden fees) and what you see is what you get. We are very happy customers, and we will be back again. So, five stars and a double thumbs up from us.
Diana Naehrig
23:32 30 Nov 17
Fast and Professional. These guys are very organised and help you get the most out of your tax return. Fees are reasonable and they also offer online digital signature to submit your paperwork remotely. Keep up the good work team.
Jose Castell
00:49 30 Jan 18
I was really impressed with the details service. Bob was really patient with all my questions and picked up lots of extra claims which I would have never thought about. Finally find an accountant who do care so strongly recommend his service. Will definitely come back next year.
Scarlett Lv
10:51 17 Sep 17